Asphalt Repairs Melbourne
Unfortunately, asphalt repairs are not something you can repair yourself. It takes specialised asphalt repair equipment, training and experience to properly repair asphalt. That's were Align Asphalt comes to your rescue.
Asphalt Repairs Large or Small
We repair damaged asphalt in driveways, car parks, shopping centres, hotels, motels, loading bays, school grounds or any area where asphalt has broken down from age, weathering or water damage through out Melbourne.
Our asphalt repair service throughout Melbourne covers repairs to all asphalt surfaces including: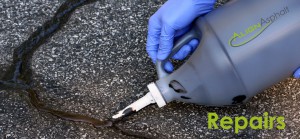 Asphalt Driveways
Asphalt Pot Holes
Asphalt Footpaths
Asphalt Crack Sealing
Asphalt Trenches
Asphalt Edging
We possess a wide range of specialised asphalt repair equipment to complete any asphalt repair large or small with a minimum of fuss for you. We can provide you with various asphalt repair options to best suit your needs, budget and time constraint requirements.
We work closely with a variety of trades including plumbers, electricians and builders who regularly require asphalt repairs or asphalt works. Our capabilities include both large and small asphalt repairs including tap-ins, pits, crossovers and trench re-instatements.
If your asphalt repair is an emergency anywhere in Melbourne call our mobile number below for immediate asphalt repair assistance.
You'll be impressed with our expertise, quality workmanship, and value for money.
Contact us to discuss your asphalt repair requirements and for a prompt, FREE, no-obligation, on-site quote.

Call 03 9089 7592 for all repair, emergency and maintenance asphalt works
or send us an email via our contact page.